At the beginning of July I went to Finland to participate in Kitee International Music and Art Festival. It is a festival created by Plamen Dimov, Nightwish's old music teacher and the participants of the festival are made up of talented Nightwish fans from around the world; musicians, singers, artists and poets. I am back home now and I am slowly beginning to process the experiences I had during my two weeks there. First of all, a huge THANK YOU to Plamen Dimov for allowing me to participate in this wonderful festival. It was such a joy to meet and perform with so many talented musicians and artists. Two weeks flew by with incredible speed and I wish I had had more time to spend with everyone. But hopefully I will get to see everyone again one day.
I performed during three concerts and I sang 'Heart Asks the Pleasure First', 'Sleeping Sun', 'Ocean Soul', 'Slow Love Slow' and 'Forever Yours'. I also performed a song by Swedish singer/songwriter Melissa Horn, 'Jag Saknar Dig Mindre och Mindre', as well as an original piece that I wrote together with Andrew Wrangell, one of the pianists I performed with during the festival.
It was great to be able to perform the music of Nightwish on stage, since it was Nightwish that made me want to study classical singing in the first place. A truly wonderful experience.
Lastly, I want to send a second thank you to the two pianists I performed with during the festival, Emil Westerhagen and Andrew Wrangell. I had a great time performing with both of them, and I may have a very exciting collaboration coming up, so stay tuned for that!
If you have a minute you should check out both Emil and Andrew. They are very talented and you can find their respective youtube channels here:
Emil: https://www.youtube.com/channel/UCiGEbW7b3vVDzm5yG_LZgiA/videos
Andrew: https://www.youtube.com/channel/UCNCPCo9W2BUB63364ekNBUA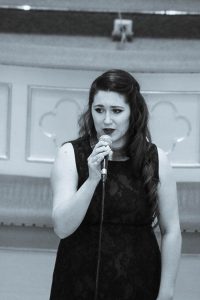 ~ Cecilia